Georgian design is a classic interior style that is widely found in both traditional and contemporary interior designs throughout the United Kingdom, as well as internationally. The Georgian period took place in the 18th and 19th centuries during the reign of King George I to IV and has retained its mark of elegance and grandeur to date.
One of the most telling signs of Georgian architecture is that it embodies refinement, symmetry, and balance. The style is characterised by clean lines, an array of beautiful colours and ornamental details which can also be adapted in the modern day with contemporary design elements. Georgian interior design style is increasingly sought-after, especially in the Georgian city of Bath because it can add a timeless feel to any home. In this blog post, we will explore the hallmarks of Georgian-style interior design and how you can incorporate these period features into your home.
Symmetry and Proportion
Symmetry and proportion are two key elements that can define Georgian-style interior design and differentiate this architecture from other periods such as Regency, Victorian or Arts and Crafts. Georgian interiors aim for balance and harmony in everything, from the placement of furniture to the use of colour. The rooms are usually rectangular in shape and furniture is arranged in an orderly, symmetrical manner.
The interiors are spacious and the decorative details aim to enhance the natural beauty of the space. If you have a room that isn't quite as symmetric but you want to achieve the look of a Georgian home, symmetrical arrangements, such as matching pairs of chairs or identical artworks on either side of a fireplace, create a sense of order and harmony. Another tip to add these period features is to incorporate panelling, moulding and ceiling roses that are decorative. Understanding these classic period features as such adds depth and visual interest to rooms. Panelled doors and windows with delicate architraves contribute to the overall sense of refinement, emphasising the architectural integrity of the space.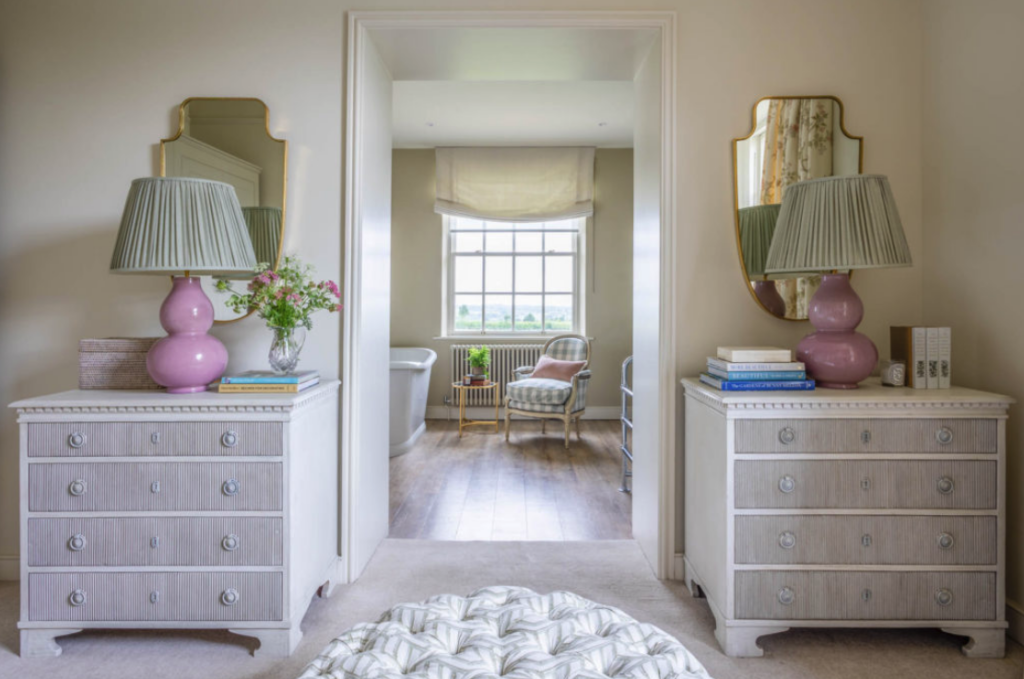 Classic Period Features
Similar to many traditional interior design styles is the use of brown furniture often made of mahogany, walnut, and ebony wood. Furniture pieces are simple with straight lines, and curves are soft and fluid. Upholstery fabrics are often silk, wool, or cotton damask, and the colours are historically quite muted, like faded blues, pinks and greens.
Prints are also popular but they are usually small and subtle. Georgian design also often incorporates neoclassical elements such as columns, pilasters, and pediments. These features draw inspiration from ancient Greek and Roman architecture, adding a sense of grandeur to the interior. Neoclassical motifs, such as urns, swags, and garlands, may also be incorporated into furnishings and decor.
Colour Palette
The Georgian colour palette is often muted yet colourful with shades of cream, beige, blue, green and pale yellow. Traditionally, pale blues and greens were the predominant colour in Georgian houses of this time. However, brighter greens and blues are sometimes used as accents.
Wallpaper is also a lovely option and a way to introduce patterns and depth to any space while also reflecting the style's timeless elegance. Oriental, floral and motif patterns are common for wallpaper and soft furnishings. It doesn't matter if you want to integrate these patterns in your dining room, drawing room, or even entrance hall, any space can benefit from these lovely decorative elements.
Lighting
When it comes to natural lighting, Georgian architecture places a strong emphasis on Large windows with multiple panes allowing sunlight to flood the interiors, creating bright and airy spaces. Window treatments, if used, are often simple and elegant, allowing the beauty of the architecture to shine through.
When it comes to Georgian-style lighting, it is delicate and chandeliers are used as the centerpiece of the room. Table lamps are often used as accent lighting and add a warm glow to the space. The lighting is designed to enhance the beauty of the space and provide a soft, inviting atmosphere. There are many modern variations to
In conclusion, Georgian style interior design offers a timeless elegance that adds grace and grandeur to any home, whether traditional or contemporary. To achieve a Georgian-style interior design similar to that of the Georgian period, you need to focus on symmetry, proportion and balance. Georgian furniture should be simple and include elements of wood with upholstery fabrics that are muted. However, the use of lovely colours, prints and Oriental patterns as finishing touches can help lift the space. The addition of delicate lighting, chandeliers and beautiful accessories completes the look.
Georgian style interior design is versatile and it subtly enhances the natural beauty of any room. So, if you're thinking of undergoing an interior design renovation, the Georgian style may be worth considering and at Sean Symington Design we're here to help you achieve just this. Get in touch with our highly skilled team members to discuss your exciting project. If you want to see more influence of Georgian design in modern settings, head to our projects page here.